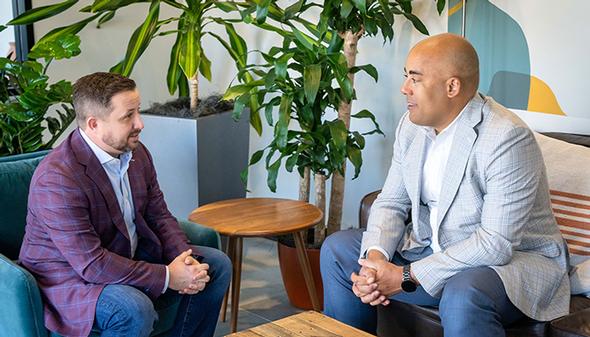 Partnering With You For Your Financial Life
At Audible Financial Group, we partner with successful people to help them create practical financial strategies and achieve their goals. We know that building your family, dream career, and business can be challenging, which is why we do everything we can to support you as you grow. Our mission is to enhance all the great things you're already doing so you can maximize your opportunities and prepare for whatever lies ahead. We build strong relationships with our clients so we can be there to celebrate, strategize, and rally with you through all of life's moments, big and small. We'll partner with you to help you understand your financial situation and options so you can make choices that align with your values and goals. Ultimately, we're here to help implement clear financial strategies that you'll feel confident about.
Collaborative Support
We collaborate with your team of professionals to ensure everyone is on the same page and working cohesively to further your objectives. With extensive resources and an in-depth understanding of your goals, we make sure you have everything you need to succeed.
Purposeful Empathy
Before we offer financial guidance, we spend time getting to know you as a person. Our motto revolves around empathy - we want to see the world through your eyes so we can strategize in a way that accurately addresses your fears, concerns, hopes, values, and goals.
Intentional Solutions
We help you understand exactly where you are, where you want to go, and how to get there. Then we offer clear, consistent financial principles to guide you as you pursue your goals.
Why Audible?
Typically, in sports an audible is an alternate strategy to adjust to a changing game environment. You walk up to the line of scrimmage, see the other team has a different lineup than you expected, and you need to quickly adjust your play to be successful. At our firm, we've learned that life often requires a few audibles. You establish financial strategies, thinking your life will go one way, and then things change. And that's okay—in fact, it's one of the best things about life. Nothing is set in stone, and that means there are often opportunities ahead you haven't anticipated. Our job as your financial support team is to help you realign your strategies as you grow so you're always equipped to leverage opportunities and face new challenges with confidence. Whether yours is a change in circumstance or a change in goals, we'll be there for every audible you need to call.